The History of Lake Park, Florida
Harry Kelsey, president of the Waldorf Systems, a Boston-based national chain of 112 restaurants, bakeries and commissaries, visited Palm Beach in 1919 to recover in the sunny climate from a bout with pneumonia. He knew a good deal when he saw one and promptly bought up land now known as North Palm Beach, Lake Park, Palm Beach Gardens and some 14 miles of oceanfront between Miami and Jupiter. He dreamed of a resort area and winter playground and the time seemed right. The early 1920's saw a boom in real estate developments in Florida, peaking in 1924.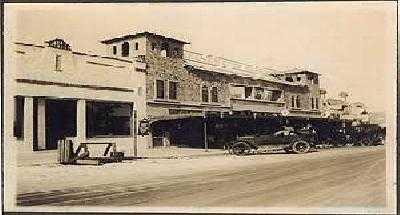 The Olmsted Brothers, designers of New York's Central Park, and Dr. John Nolan of Boston were hired to lay out this first zoned municipality in Florida. There were to be three sections: residential, retail stores, and manufacturing. Large city gates with an arch were built on Gateway Road, proclaiming, "Welcome to Kelsey City, Gateway to the World's Winter Playground."
Kelsey sent for a business associate, SamuelJ. Blakely from Egypt, Massachusetts, who landscaped the new city. Blakely's first project was a delightfully serene area by the lake with palm trees, today known as Kelsey Park. Today Sam Blakely's grandson, Jeff Blakely, is a resident of Lake Park and a noted landscape architect with the State of Florida. Prospective buyers were given a day long opportunity to survey the area. They took a boat ride to pretty Kelsey Park, visited some of the model homes and climbed a tall observation tower to pick their choice of lots. The lots were sold through huge auctions under a tent in Kelsey Park. Harry Kelsey's house and Sam Blakely's house overlooking Kelsey Park have been preserved and are still being used. The water system of the town was reported to be of the highest quality, electricity was supplied through the entire area, and there was just about every kind of retail store and businesses a resident could want.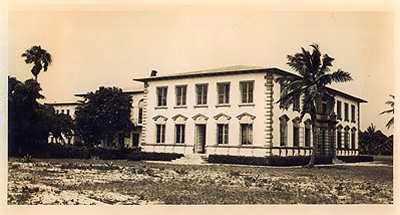 In 1927 Kelsey hired Palm Beach architect Bruce Kitchell to build the large Town Hall that housed a civic center, auditorium, stage, police and fire stations and a town jail. A short time later, a new Florida East Coast Railroad Depot was built. It was of Mediterranean Revival design and was said to be the most beautiful railroad depot along the entire FEC route. However, the real estate boom began to lag. With banks all over the country beginning to fail in the late 1920's, the "Miracle City" was headed for trouble. A hurricane hit Kelsey City in 1926 and in 1928 the biggest hurricane to hit Palm Beach County leveled the then prosperous Kelsey City. Very few buildings were left standing and many new homeowners left Kelsey City without evenstaking a claim on the land that they had bought.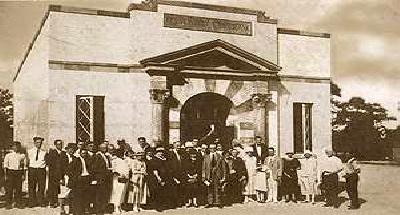 In 1929 the stock market crashed. In 1931, Harry Kelsey left South Florida a bankrupt man. Yet another hurricane hit Kelsey City in 1933. Through all this, the town survived and in 1939 the Garden Club renamed the town Lake Park in order to hopefully change its luck. Kelsey City has a wonderful heritage. It wasthe second pre-planned and platted city in the entire country (Washington, D. C. was the first). It was the first full-scale city to be architecturally landscaped and the first full-scale city to be laid out and designed by the Olmsted Brothers.
It was one of the first full-scale cities to be pre-planned and laid out with parks, municipal and public buildings, transportation facilities, highways (all main streets are 4 lanes), retail, residential and manufacturing zones, and recreational facilities. The needs for electricity, fresh water, crime control and garbage removal were provided for before the first house was built. Kelsey City had the first concrete school house in the Palm Beaches, a school that is still being used. The city was the home of the concrete block, which was developed in Kelsey City (one block took the place of 18 standard bricks, and one man with a helper could do the work of 5 masons in a day). This wonderful heritage is inspiration for a very bright future for the Town and its residents.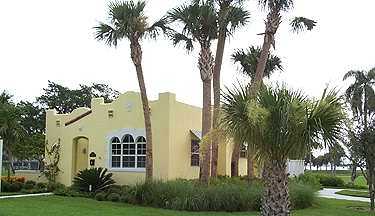 Lake Park adopted its Mission Statement three years ago in order to put the world on notice as to where this small, unique town is headed - To redefine the Town of Lake Park as "The Jewel of the Palm Beaches," to improve the quality of life for all citizens by maintaining a small town atmosphere in an urbanenvironment; to restore a sense of "place and community;" to maintain and increase property values; to recruit and retain qualified staff to provide quality service delivery (i.e., recreational, cultural, public safety, public works and administration); and to encourage zero tolerance of crime and town code violations; to develop strategies for economic development and redevelopment in an efficient, orderly manner.For almost twenty years, little new development had come to Lake Park. With its mission in place and the Bond Issue funds being used for great improvements, new development is being prepared all over town. Several developers have already submitted plans for what promises to be a rebirth of South Florida's "Miracle City."