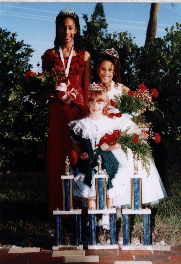 The Town of Lake Park held its annual ChristmasInDixie Pageant on the community stage at the Holiday By The Shore festival in Kelsey Park on Saturday, December 4. The contestants ranged from 3 to 13 years old and were divided into three age categories. All the young women who participated were winners, going home with a trophy, flowers and other prizes.
The participants were judged on poise, personality, grace and general appearance. The judges were Town Clerk Mary Wolcott, 1998 Miss ChristmasInDixie Erin Knudtson, and Diane Sophinos, President of Lake Park Friends of the Library. Wild 95.5 DJ Dave Duran was the master of ceremonies.
1999 ChristmasInDixie Pageant firstplace winners (clockwise from upper left): Ashley Jackson, Mia Watford and Mikayla Chapman.