COMMUNITY AFFAIRS
The Lake Park Community Affairs Department consists of one person and provides the special events and recreational opportunities for residents and visitors of all ages.
The department not only implements numerous on-going holiday events such as: A Holiday Tree Lighting, An Easter Egg Hunt and a summer fireworks festival, but it also presents a fully-coordinated 8-week Summer Camp Program.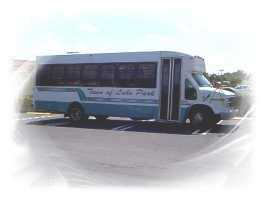 Through the purchase of a 29-passenger shuttle bus, the department is also directly involved with all bus trips, including scheduling and driving to sporting events, cultural events, amusement parks, school's out trips for kids and destinations throughout the entire State of Florida. In between events and bus trips, the Community Affairs Department processes all town rental facilities for outside use, is involved in Little League Baseball, tackle football, youth basketball and oversees the classes of karate, bridge, tap dance, gymnastics, aerobics, etc...
The department tripled its budget with the receipt of more than $300,000 in grant money from the State of Florida and Palm Beach County for the renovation of the Sixth Street Ballfields. Basketball courts, playgrounds and renovated restrooms are a part of the redeveloped ballfields, while another $130,000 in grant money built a new playground and picnic facilities along the Intracoastal in Kelsey Park.
Although Town Hall is currently under construction, within the next few months, Lake Park will be back in full-motion with the following programs:
RECREATIONAL ACTIVITIES
After-School Program
Aerobics
Seniors Slim Trim
Karate
Seniors Bridge
Duplicate Bridge
Daisy Girl Scouts
Girl Scouts
Cub Scouts
Boy Scouts
Seniors Tap Dance Class
Tennis Leagues & Teams
Children's Dance & Gymnastics
Little League Baseball
Youth Tackle Football
Youth Basketball League
Summer Camp

You can E-mail us at [email protected]